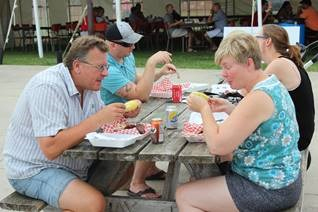 The Bayfield Fair will provide the Bayfield community with more choices in live music this summer.  The village seems to have something that appeals to all tastes in music throughout the summer.  This year young talent gets to perform and compete for a chance to perform at the Western Fair in the Rise2Fame competition on Friday August 17, the opening night of the fair.  All young persons between 6 and 21 have an opportunity to exhibit their musical skills and grow as a performer through the experience.  Those interested should contact Charlie Kalbfleisch at 519 565 2244 or Willi Laurie at 519 482 9265 for further information.
The RBC Youth Stage will have a talented country and western singer perform on the opening night.  He will provide a background music to the Ribs Dinner prepared by Pineridge BBQ.  The dinner will be from 5 to approximately 7.  The half rack of ribs with Pineridge's famous sauce will come with potato salad, coleslaw and a soft drink for $18.  This price includes the night's admission as well.  In any weather those eating will be under the tent listening to a great night of music.  As a climax to the night there will be fireworks which has been supported by several local businesses.
Saturday evening will also feature another live music event for Bayfield.  21 Gun Salute –an AC/DC tribute band will perform on August 18.  Music will rock Agricultural Park from this high voltage rock n'roll tribute band.  Gates will open at 7.  Tickets can be purchased online at http://www.ticketscene.ca/events/21583.  Get your fix of rock music at the 2018 Bayfield Fair.  The full schedule of events should be on the website shortly.