It is awe inspiring to hear the listing of countless acts of generous activities of very humble people.  Last Thursday Lisa Thompson, MPP for Huron-Bruce, hosted a levee honouring the Remarkable Citizens of 2017 in Teeswater.  Forty people were honoured for their selfless contributions to their communities in this provincial riding.
The Ag Society was pleased that Ted and Jean Dunn were honoured that evening –a couple who have served the Society collectively over 100 years.  Ted began his connection with the Society when he was in 4-H.  He served as President in four different decades and was part of numerous committees.  His leadership was also seen in his church, his work and in the various music groups with which he has shared his tenor voice.  His welding and design skills were used to make the gates that are hung at the entrance to Agricultural Park.  Jean immersed herself into the Bayfield community following her marriage to Ted.  She has been the Homecraft President for many years and encouraged many new exhibitors at the fair.  Her church certainly was gifted with many of her skills.  In addition to her family, her passion has been sharing her love of food.  As a member of the Community Food Advisors (CFA) in Huron County she has introduced many with their first lessons on preparing food from basic ingredients and using local food.
Ted and Jean are definitely remarkable citizens and the Bayfield community is the better for receiving the benefits of their time and skills.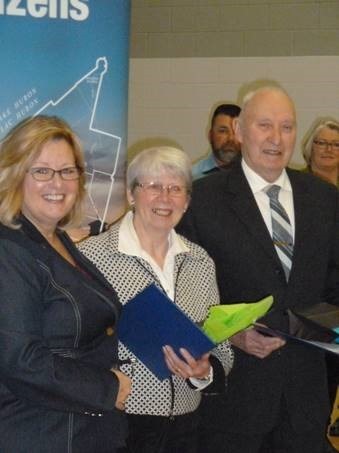 A date to mark on the calendar and celebrate is February 9th, Food Freedom Day.  It marks when the average Canadian has earned enough income to pay for his/her entire year of groceries.  This is really the celebration of the tremendous affordability of food in Canada.  Perhaps it is the day we should consider making a donation to our food banks assisting those who do struggle to have enough income to afford good quality food.  Happy Food Freedom Day.