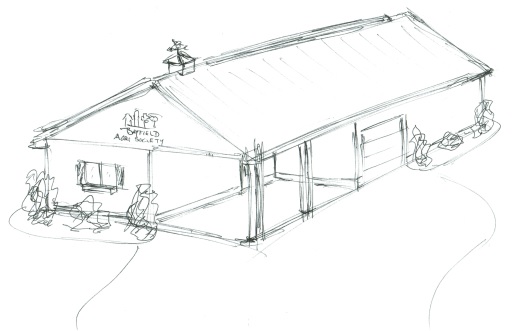 Planning for a replacement of the Farm Animal Display building in Agricultural Park has been a project of the Bayfield Agricultural Society for over a year and a half.  This building to replace the former Pet Display (old MacDonald's farm) Building will be identical in size with a dry storage (15×20') attachment.  This additional space will accommodate a secure office location for the days of the fair and storage the remainder of the year.
The Ag Society is seeking the community's support to assist with the funding of the $85 000 project.  Since last week there is less than $35 000 to raise.  One generous donor said he would match funds that come in from now to the end of December up to $2500.  Challenges like that illustrate the attachment many in the community have with the experiences they have had being able to see and touch farm animals during the fair.  Other challenges to groups in the community are certainly welcome.
A brick wall will recognize our generous supporters:
Rafter sponsors                       $10 000 and greater         Quoin and interior sign
Beam sponsors                        $5 000 – $9 999                 12"x12" brick
Frame sponsors                       $2 000 – $4 999                8"x8" brick
Wall sheeting sponsors          $500 – $1 999                    6"x6" or 4"x8" brick
Floor board sponsors             $100 – $499                        included on a plaque
Donations can be made by cheques made out to the Bayfield Agricultural Society and mailed to our treasurer, Jim Erwin, Box 236, Bayfield.  In addition arrangements have been made to handle donations of stocks or bonds.  All sponsor level donations will receive a charitable receipt for income tax purposes.  Donations may be made to honour the memory of someone also.  If further information is required, call Doug at 519 482 9296.
---
Rafter Sponsors (Donations $10,000 and up)
Beam Sponsors (Donations of $5000 – $9999)
-Doug Yeo
-Municipality of Bluewater
-Stephen Jacob
-Trillium Mutual Insurance Co.
Frame Sponsors (Donations of $2000 – $4999)
-Curtis Family
-Debbie, John & Elizabeth Erb
–Huron County Dairy Producer Committee
-Jentje Steenbeek
-Municipality of Central Huron

Wall Sheeting Sponsors (Donations of $500 – $1999)
-Catherine Thompson
-County of Huron
-Don and Joan Brodie
-Doreen MacKenzie
-Hensall Co-op
-Jillianne Reinseth
-Leslie Liedtke
-Lorraine Shields
-Township of Ashfield-Colborne-Wawanosh
-Ted & Jean Dunn
-Terry & Helen Lazaravitch
-Tuckersmith Communications Co-op Ltd.

Floor Board Sponsors (Donations of $100 – $499)
-Bayfield Hearing Clinic
-Den-Way Auto Body Ltd.
-Joanne D Lewis & J Mark Stirling
-Paul & Heather Klopp
-Peter & Robin Wiley
-Robert Chaffe
-Rolf & Ulrike Stoye
-Roy & Marilyn Price
-Rural Ontario Institute
-Wayne & Esther Cantelon