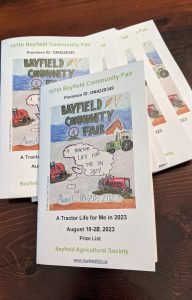 We're delighted to announce that the print version of the 2023 Fair Book is now available for the Bayfield Community Fair, Aug 18-20. The Fair Book provides all of the information that exhibitors need to enter their exhibits in this year's Fair. All exhibitors are encouraged to read the Fair Book carefully. It contains information on entry rules and regulations, entry forms and deadlines, fees, special category requirements, judging criteria, and prizes.
Here in Bayfield, you can pick up a copy of the Fair Book at the Bayfield Library and the Bayfield Convenience Store. In Goderich, you can pick up a copy at the Goderich Library, Elizabeth's Art Gallery, N Sew On Custom Embroidery, and Peavey Mart as well as craft/quilt shops, garden centres, and other libraries in the area.
The Bayfield Agricultural Society website offers an online version of the 2023 Fair Book. To enter online, exhibitors can use the access link on the Online Entry Submission web page.
The artwork on the cover of the 2023 Fair Book was created by active exhibitor and dedicated Fair volunteer Cate Thompson. Through her willingness to help out with just about any task, Cate has become a valuable member of the Bayfield Fair family.
The talent, skills, and passion of exhibitors are nothing short of amazing. The Bayfield Agricultural Society is issuing a challenge to everyone in the community to show their community spirit by entering at least one exhibit in the Fair!
Join in the fun – exhibit at the Fair!