MEDIA RELEASE
August 20, 2021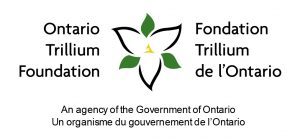 $31,400 OTF Grant Gives Agricultural Society Accessible Bleachers and Safety Equipment
Bayfield, ON – Earlier this year, the Bayfield Agricultural Society received a $31,400 Resilient Communities Fund grant from the Ontario Trillium Foundation (OTF) to install three accessible bleachers in Agricultural Park in Bayfield. On Friday, MPP Lisa Thompson and OTF volunteer Emma Bartz, were there for the opening night of the Society's annual fair.
"Over the years Ontario Trillium Foundation grants, and the newly created Resilient Communities Fund, have helped a lot of organizations accomplish a great deal of their goals and objectives. However, this grant to the Bayfield Agricultural Society is especially pleasing, important, and indeed, timely," said Huron-Bruce MPP Lisa Thompson. "It is yet another step towards getting us all back together safely."
Safety equipment was also provided for volunteers and visitors to the annual agricultural fair organized by the Society. Consisting of masks, shields and sanitizing stations, this equipment will be used for this year's fair, running from August 20th to 22nd. The new bleachers, which will be arriving soon, will provide improved accessibility for everyone for the events that take place in the park for years to come. The Resilient Communities Fund was created to help non-profit organizations rebound and recover from the impacts of COVID-19.
"The effect of this Ontario Trillium Foundation grant is huge," said Pamela Stanley, President of the Bayfield Agricultural Society. "This grant has given our Society the opportunity to have a safe fair experience but a long-term benefit of greater accessibility for visitors at events in our park. Our park has always been a community park and now becomes more welcoming to all."
The Bayfield Agricultural Society aims to having the park more accessible for activities in its multi-purposed park, whether sports activities or the fair. If you want to inquire about using the park for an event, please visit the website at: www.bayfieldfair.ca