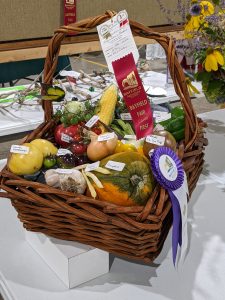 The warm weather has finally arrived, which means that summer is just around the corner. And that means it will be no time at all until the annual Bayfield Community Fair – always on the 3rd weekend of August. The Bayfield Agricultural Society (BAS) reminds everyone that the Fair will be held at the Bayfield Arena and Agricultural Park on Aug. 18-20. This year's theme is "A Tractor Life for Me in 2023".
Now is a perfect time to start getting your entries ready for the Bayfield Fair. The opportunities for all ages to enter art and photography, baking and canning, flowers and plants, fruits and vegetables, as well as handcrafted quilting, sewing, knitting, crocheting, and woodworking are at the heart of the indoor Homecraft show. All entries are welcome and add to the wealth of exhibits that fairgoers have come to appreciate each year.
A new vegetable category has been added this year for Best Quad of Baking Potatoes (4 shown on a plate) with a 1st prize of $50. This new category is expected to generate some serious interest. In 2022, two new "sweet" categories were added for maple syrup and honey, with three classes each. Fair organizers encourage local producers to get their maple syrup and honey entries ready for some friendly competition!
All of the entry categories and requirements can be viewed online in the 2023 Fair Book. Entries can be completed online. A print version of the 2023 Fair Book is currently being published and will be available by mid-June.
The BAS is pleased to announce the return of the Poultry Show and competition on Saturday, August 19th featuring more than 100 categories. The exhibits will include large fowl, bantams, waterfowl, turkeys, pigeons, and a full section for junior exhibitors to enter. This is sure to be a hit with breeders and everyone attending the Fair, both young and old. For more information on entering the Poultry Show, please check the Poultry section in the 2023 Fair Book.
Vendors who wish to have an indoor or outdoor booth to sell crafts or promote a business are asked to check the Concessions page on this website for rates and contact information. Booth spaces are filling up quickly. Anyone interested should secure their space soon.
Volunteers from the community are needed to help make the Bayfield Fair a success. Whether it's a few hours or a few days, volunteer help is always appreciated. High school students who need extra hours to complete their volunteer service requirements for graduation are most welcome. Anyone interested in volunteering can email: info@bayfieldfair.ca
Join in the fun – start getting your entries ready!