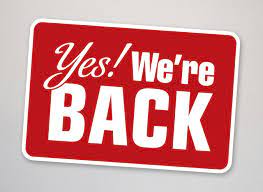 The Board of Directors has been meeting monthly and carefully following the updates from the province. They have determined that hosting the 165th annual summer fair is possible. So, they are happy to advise the community that there is a 2021 Prize Fair Book on their website (
www.bayfieldfair.ca
), and they will be adding to their schedule over the next weeks as they prepare a variety of live and virtual events.
"Harvesting Memories and Planning the Future" is this year's theme. What good timing for respecting past accomplishments and celebrating the move into the "new normal"!
"We look forward to hosting a Grand Opening on Friday, Aug. 20 that will feature Senator Rob Black. There will be a BBQ dinner, refreshments and fireworks!" said Stanley.
She went on to explain that there will be animals in the new display barn. There will be horses. Friesians, Arabians and heavy horse competitions will be held. Children will be welcomed to see the tractors of old and new vintages! Dog agility shows, a mini-tractor pull and some familiar kid's entertainment will be provided with special supervision. And the Bayfield Community Fair is very lucky to be one of only three Showcases in Ontario for the "Rise to Fame" talent competition.
"This year, we would like to invite non-profit community groups and service clubs to set up their own outdoor display tents as an opportunity to show community visitors how we are all working through COVID-times together," said Stanley. "There will be no space rental charge, but we would ask that a "kid friendly" display be part of your information booth."
Any group wishing an outdoor display space is asked to contact Stanley by phone at 519 482-9914 or by email at info@bayfieldfair.ca
Volunteers are also needed to help the fair run smoothly. Anyone who would like to give some time to the event is asked to contact Stanley using the information provided above.
"This is our opportunity to get back to the roots of what agricultural fairs started 165 years ago to be…about the farm, the animals, the children, the families, and the community supporters of how it all works together," said Stanley.