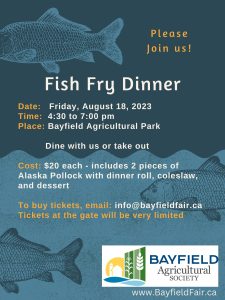 Fish Fry Dinner
Have a meal with us at Agricultural Park, Bayfield!
Date: Friday, August 18, 2023
Time: 4:30 pm to 7:00 pm
Place: Bayfield Agricultural Park – 1 Fry Street, Bayfield, Ontario
Dinner details: 2 pieces of Alaska Pollock with fries, dinner roll, coleslaw, and dessert
Tickets: $20 each (see purchase details below)
Everyone loves a good old-fashioned fish fry! Please join us for a Fish Fry Dinner on Friday, August 18th to help us kick off the opening of the 2023 Bayfield Fair. The dinner will be held right on the grounds of the Bayfield Agricultural Park at 1 Fry Street in Bayfield. Dine with us or get your dinner to take out.
Volunteers from the Brussels Legion will be preparing and cooking the fish to perfection. The Brussels Legion is well known for its fish fry expertise!
Buy your tickets by emailing info@BayfieldFair.ca. Payment can be made through etransfer, PayPal, or cash.
We're still selling tickets for the Fish Fry Dinner. There will be a limited number of tickets available at the gate, so get your tickets early to avoid disappointment!
We hope you can join us!