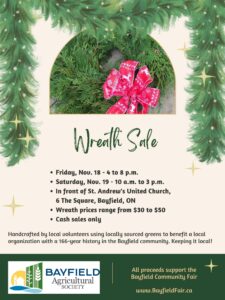 The Bayfield Agricultural Society (BAS) is very happy to announce it will be holding a Wreath Sale during the Christmas in Bayfield weekend.
The wreaths will be available in front of St. Andrew's United Church, located at 6 The Square, directly across from Clan Gregor Square. Sale times are Friday, Nov. 18 from 4 to 8:00 p.m. and Saturday, Nov. 19 from 10:00 a.m. to 3:00 p.m., while quantities last. Prices range from $30 to $50, and payment is by cash or cheque made out to the Bayfield Agricultural Society.
Anyone wishing to place an order ahead of time to ensure availability may do so by emailing info@bayfieldfair.ca or by calling 519-482-9296. Payment will be due at pickup.
These beautiful wreaths are made of natural grape vine, cedar, spruce, white pine, juniper, and yew. Each wreath is one of a kind and will add a special warmth to any holiday décor.
The wreaths have been handcrafted by local volunteers using locally sourced greens as a fundraiser for the BAS – a local organization with a 166-year history in the Bayfield community. It doesn't get more "local" than that!