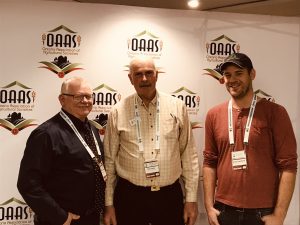 Over 950 delegates from Agricultural Societies across Ontario attended the Ontario Association of Agricultural Societies (OAAS) convention held February 16 – 18 in Richmond Hill. Among the delegates were representatives from the Bayfield Agricultural Society: President Vicky Culbert, Secretary Doug Yeo, Treasurer Jentje Steenbeek, and Director Doug Culbert.
The OAAS convention provides the opportunity to learn about novel approaches to organizing fairs, the current issues affecting Agricultural Societies, and up and coming entertainment groups. There are also some competitions. Winners of certain classes at the local fairs competed at the District level and those winners competed against winners in all Districts across the province at the OAAS Convention. Rhonda Bundy of Bayfield won at the District level in liquid white honey and received solid marks in the competition at the convention, but an entry from Eastern Ontario won the competition. Bayfield entered several photography classes and received 4 prizes – a first, a second, and two third-place prizes.  Congratulations to Bayfield's Doug Yeo who won first prize for his picture of two antique tractors beside the brand-new John Deere tractor near the gates at the 2022 Fair! It was pleasing to see that the winner of the hand-quilted competition was a quilter from Stratford.
Jentje Steenbeek, of Bayfield Agricultural Society, was confirmed as Provincial Director for this District on the OAAS Board. He will be travelling throughout Huron and Perth Counties visiting fairs and lending them support.
Agricultural fairs are cultural events that take place throughout Ontario showcasing rural life to all visitors. Fairgoers have the opportunity to participate in and experience competitions, see farm animals, and enjoy the entertainment. The Bayfield Fair is always the third weekend in August. This year's Fair will be held on August 18 – 20. Everyone is invited to join in the fun!